---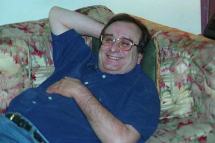 Born in southern California in 1947, Eric has been writing comic fantasy fiction since his college days. Despite this, he didn't get around to getting anything fictional officially published until 1992, when his short story "Entropy, and the Strangler" won first place in the Winter 1992 Writers of the Future contest.
Before dedicating himself to writing as a career, Eric occupied himself by getting a PhD in History from UCLA, becoming a socialist political activist, and working as a longshoreman, truck driver, machinist, meatpacker, auto forge worker, glassblower, and probably a few other things as well.
Finally deciding that, after more than 25 years, he'd "paid his dues" as a political activist, Eric decided to pursue his dream of becoming an author of science fiction and fantasy.
His first published novel, Mother of Demons, came out in 1993 and he's been writing full-time since 1999. Among the works he has produced in this time have been 1632, The Philosophical Strangler, the Belisarius series (with David Drake) and the Heirs of Alexandria series (with Dave Freer and Mercedes Lackey). He has also written two short stories set in David Weber's Honor Harrington universe, and collaborated in a novel for the same universe, Crown of Slaves. His full bibliography is far too large to be listed here, but includes huge volumes of books and short stories written, co-written, and edited (Eric has been heavily involved in the re-issuing of classic science fiction stories written by greats such as Keith Laumer and James H. Schmitz).
Among his other hats, Eric is also the First Librarian of the Baen Free Library, which since 1999 has provided a selection of Baen-published books free online for easy reading or download. Several of Eric's own books are on there, and are highly recommended by the Concom (plug, plug).
You can find out more about Eric and his works from the following websites:
Eric Flint's place on the web
http://www.ericflint.net/index.php/
Baen Free Library
The Conspiracy II Committee are stoked to have Eric onboard as our Guest of Honour, and hope that he and Lucille enjoy their stay in the Land of the Great White Cloud.